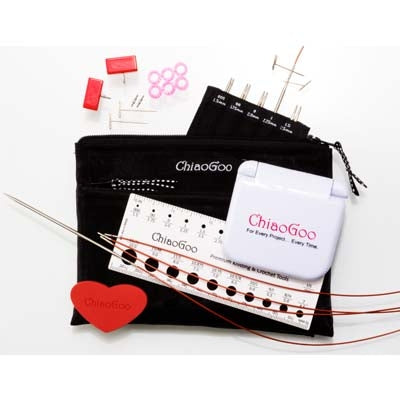 Chiaogoo Twist Mini Kit 4"
We have run out of stock for this item.
The TWIST MINI Stainless Steel Lace Interchangeable 4" (10 cm) system comes with five sets of tips including US000 (1.5 mm), US00 (1.75 mm), US0 (2 mm), US1 (2.25 mm) and US1.5 (2.5 mm) and two 16" (40cm), one 22" (60cm) and one 32" (80 cm) cables.
TWIST red cables are memory free! They consist of a multi-strand, steel cable coated with red nylon.
The MINI system also includes a needle gauge and MINI Tools Kit that contains cable connectors, end stoppers, tightening keys, stitch markers & a gripper. A sleeve with labeled pockets holds the MINI tips.
It all comes in a compact, 2-pocket, black mesh pouch that fits into our current interchangeable case!