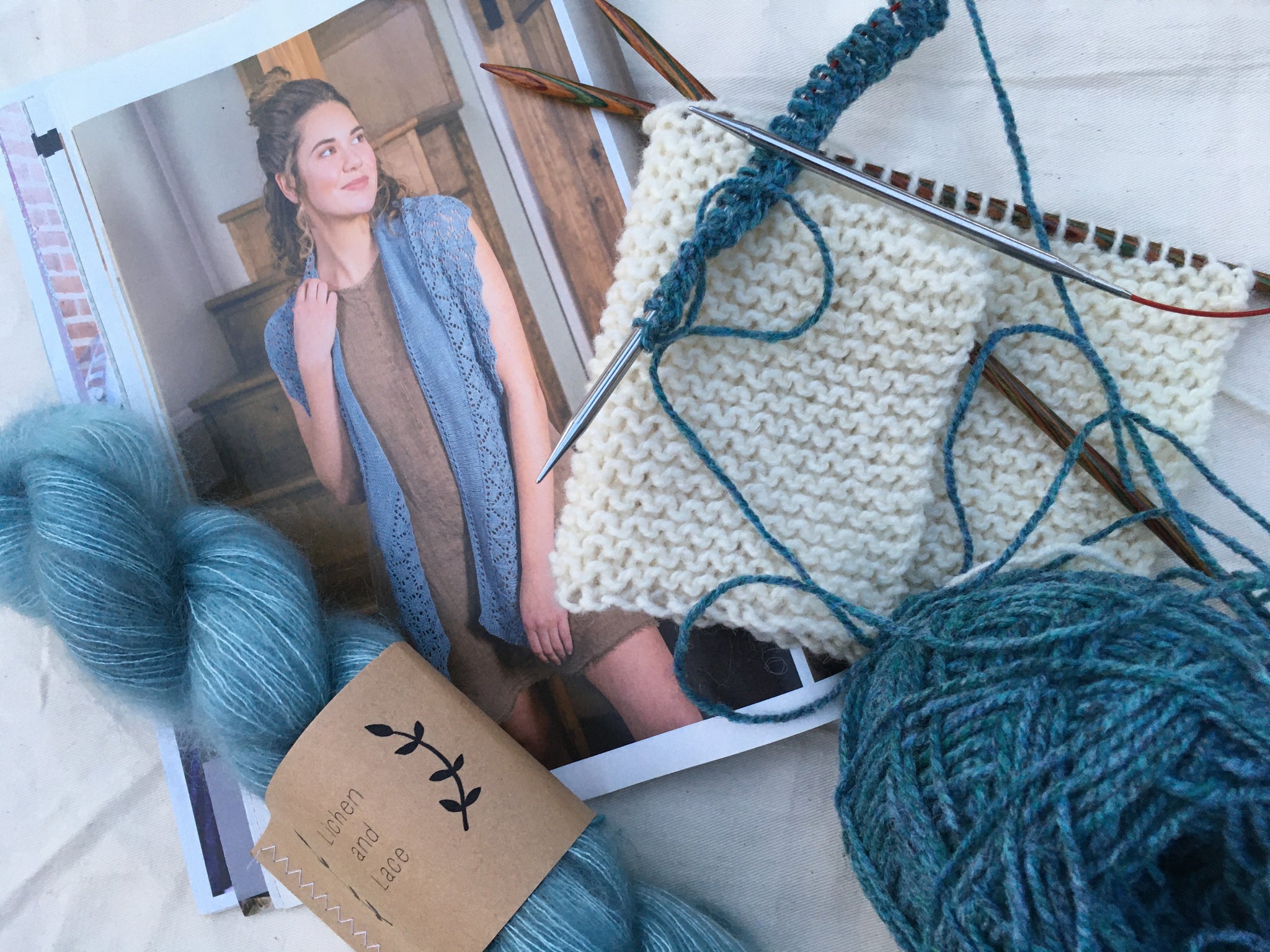 There's a shiver to starting a new project. The yarn feels fresh, we've gathered our tools and notions. We can see what we want to create in our mind's eye. We cast on with hope and confidence, and perhaps some trepidation. The pattern may be a treasured favourite, but we might also be knitting, crocheting, or weaving something we've never tried before.  Every time we take up our tools, we start anew.

As hand crafters we have the gift of beginnings at our fingertips.  At Riverside Yarns we are thrilled to be part of your new beginnings. The passion, energy, and determination that each and every one of you has brought to your projects is inspiring.  Let's keep that energy shining through and together we will work our way out of these difficult times.

This month's newsletter celebrates the beautiful projects we have all been working on over the past weeks and even months.  Our Finished Objects Gallery is FULL of your love and resilience.  Knit, crochet, felt, and weave on!
We love how soft Cascade Ultra Pima DK Cotton  is, and how it knits up into cosy projects for babies and children. Did you know it's also the preferred yarn for making Knitted Knockers? We didn't realize how special Knitted Knockers were until Betty Traynor brought in her collection all ready to be sent to the Knitted Knockers of Canada distribution centre.
Knitted Knockers are just that: a hand-knit prosthesis for women who have undergone mastectomies or other procedures to the breast. Traditional breast prosthetics are usually expensive, heavy, sweaty, and uncomfortable. They typically require special bras or camisoles with pockets and can't be worn for weeks after surgery. Knitted Knockers, on the other hand, are soft, comfortable, beautiful and when placed in a regular bra they take the shape and feel of a real breast. And women can use them fairly soon after surgery. (http://knittedknockerscanada.com/index.html).

Our 'knocker' is stuffed with wool roving, making it  light-weight  and breathable. So you have a 100% natural fibre product, made by volunteer crafters, available for free to anyone who requests them through the Knitted Knockers of Canada. 

Patterns for the knitted version have been printed by Estelle Yarns and are available at the store, and on their website. There is also a crochet pattern on the Knitted Kockers website. We're so happy to be a drop-off centre for this heartwarming project. For a free pattern, visit:

http://knittedknockerscanada.com/index.html
INTRODUCING

 RIVERSIDE FAMILY COWLS

DESIGNED BY NANCY LEKX
FOR RIVERSIDE YARNS
This collection of cowls was designed exclusively for Riverside Yarns to mark Ontario's Family Day on February 15, 2021. The pattern comes in five sizes, so you're sure to find one to fit every member of your family. It's also very flexible: knit fewer repeats for a snug neckwarmer, or knit it longer so you can pull the cowl up over your head like a hood.

To celebrate this collaboration with our local designer, Nancy Lekx, we're hosting a four-week Knit-A-Long via Zoom. We'll kick off the KAL on Thursday, Jan. 28 at 7 PM, and Nancy will be on hand to talk about the design elements and offer support. 

The pattern calls for DK-weight yarn, and we have plenty of options in the store. Our samples on the top were knit in Sirocco from The Yarns of Rhichard Devrieze in Strawberry Finches (adolescent/adult small size) and Bo Peep Luxury Baby from West Yorkshire Spinners in Buttercup (toddler size).  Bottom: Superwash Merino DK from Estelle Yarns in Steel (adult large size).
The pattern is currently available on Ravelry at 
20% off until January 28 and no coupon code is required. 

https://www.ravelry.com/patterns/library/riverside-family-cowls

If you would like to take part in our Zoom KAL, please email:
josette@riversideyarns.ca
1: Colette Le Page used six balls of Estelle Superwash Merino DK in a colour gradient for her Correct Shawl. The pattern is available for free on the Estelle website.

2: This is a colourful set knit up by Pat Wagter for her husband. She used Cascade 220 Superwash, a great choice for outer wear.

3:  Cody Hawes was inspired by the "Eyelet Shawl Pattern Collection" from UK yarn shop Woolly Brew when she designed this classic shawl. The eyelet pattern really shows off the texture of the BC Garn Soft Silk that she used. The colourway, Curry, makes this an all-season accessory.

4: Rosemary Mulligan finished her Elton sweater in the fall, using Urth Sock 2017 and Marsh Mohair in Sage.  The different weights of yarn are used separately to create a highly textured striping. She then double-stranded the leftover yarn to make a pair of welted fingerless mitts by Churchmouse Designs and a Tanis Fibre Arts hat. The  Zigzagular socks, following a pattern from Prairie Girl Designs, are knit in Urth Sock without the mohair.
Karli Whitmore is always thinking of unique ways to use our local yarns. Top photos: She knit up some simple slippers and crocheted a soap holder with the last of the Ainsley Woods fingering that she had in her stash. 
Bottom photos: Karli made a cosy one-skein hat with some Woolies In the Country Lopi, and doubled Briggs and Little Sport with Meaford Lace for these delightful fingerless gloves.

Her projects can be seen on Ravelry:
 
https://www.ravelry.com/projects/KarliKnitter/ainsley-square
https://www.ravelry.com/projects/KarliKnitter/simple-garter-stitch-slippers-8
https://www.ravelry.com/projects/KarliKnitter/rikke-hat-3

 
1: Cathy needed a quick and satisfying knit over the holidays. She chose to do the Copper River Beanie and Cowl with Malabrigo Caracol in Rich Chocolate, and topped it with a Pom Pom from Grey Owl Knits.
2: Josette created this one-of-a-kind colour work sweater using the Strange Brew method from Tin Can Knits. She kit it up in Sweet Paprika Winfield.
3,4: An original design by Shawna Katz. She's calling this the Alpine Ridges Hat. While she crocheted it in Illimani Amelie, she's created a pattern that can be adapted for any size, in almost any yarn. 
 
Top: You can never have enough ribbed cowls. Joan Spence knit this one up in Katia Eden. This is her own design, and we have the pattern at the store.
Bottom: Judy Elkins completed her Oxbow Sweater by Andrea Mowry in Hayfield Chunky with wool. 

 
Mark your calendars!
It's our first First Friday Sale of 2021!
We're offering all our Sugar Bush Yarns at 25% off. There's a Sugar Bush Yarn in every weight, from Itty-Bitty for sweet socks, to super-chunky Chill for plush and cosy hats. 
Check it out online only on Friday, Feb 5. While quantities last!
We offer curb-side pickup for local customers, and a flat-rate shipping fee of $10.00 on orders under $200.
We're excited to launch a series of Zoom classes, starting with Beginner's Crochet with Shawna.
Join us for a three-week online class that will tackle the basics of crochet one step at a time. This class will be held remotely via Zoom, and is limited to three participants.
Your instructor will be Shawna Katz, our store manager and the designer behind Uniquely Handcrafted.

When: Friday 10:30 am to 11:30 am Feb. 5, 12, 19
Cost: $30 non-refundable, non-transferable
Email cathy@riversideyarns.ca to register
This January and February we're re-stocking our favourite hand-dyed yarns. Any day now we'll be receiving a shipment from Malabrigo of Sock, Arroyo, Washted, Caracol, and Silkpaca. Our order for Lichen and Lace went in last week, and includes plenty of 80/20 Sock, Marsh Mohair, and Rustic Sport. And our orders from The Yarns of Rhichard Devrieze are always full of surprises. We'll keep you posted on Facebook and Instagram
New Yarn for a New Year
Introducing ADVENTURE by Sirdar
This super cozy, super chunky, roving yarn has something for everyone. It's great for beginners because it knits up warm accessories in a flash. Experienced crafters will like it for big projects, like blankets and house wares. Use large needles for maximum impact.
80% Acrylic/ 20% Wool
 7.5 sts x 10 rows = 10 cm on 12 mm needles
 $22.60  per 105m/ 200g ball
Available in 8 colours inspired by Polar expeditions.
In-store and online early February. 
We're still connecting through Zoom
Under the current public health guidelines we cannot offer in-house project support. We have, however, reached out to a number of our customers virtually and will continue to do so for the time being. If you need some guidance with a project, email Josette and she will set up a Zoom meeting with you. We can only offer knitting support at this time.

Our Tuesday Knit/Crochet is going strong on Zoom. We 'meet' at 7 PM for an hour and a half of chit chat about crafting, yarn, and whatever else catches our fancy.

To take part in either program, simply send an email to
josette@riversideyarns.ca
Winter Hours 
Tuesdays, Wednesdays, and Fridays: 12 - 5 PM
Thursdays: closed, local delivery only
Saturdays: 12 - 4 PM

Ontario is under "stay at home orders", so we cannot be open to the public. We will be in the store during these hours, filling online orders, and handling phone-in orders. We can arrange for curbside pick-up and local delivery.
Our webstore is open 24/7.



www.riversideyarns.ca


519-371-4311
Our cover photo features the Rippling Waves Shawl, a pattern designed by Nancy Lekx that was published in the Summer 2020 issue of knitscene magazine.

This pattern is available at interweave.com 
Read more