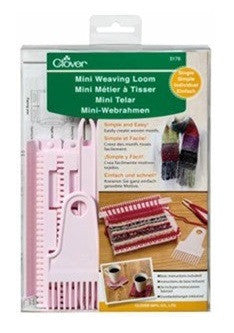 We have run out of stock for this item.
This portable and compact mini weaving loom is as fun to use as it is easy. Basic instructions are included which makes getting started super easy!
 
Easily create beautiful woven or fringed motifs with this mini weaving loom. Create a wide variety of motifs using different warp settings and yarn selections! This loom allows one to create all kinds of beautiful projects, such as scarves, mini purses, glasses cases, phone cases, mug rugs, decorations and more! The finished size on the single loom is approximately 4.75" (12cm) square.