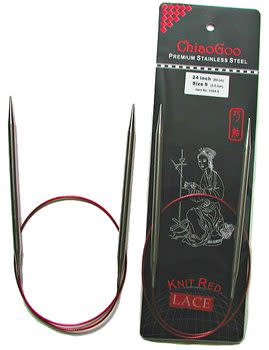 Chiaogoo Red Circular 30cm (12")
Chiao Goo RED Premium Lace circular needles have the same fine red cable, joins and overall quality as our regular REDs with a couple of differences: these new RED Lace circulars have no bend in the needle and the tips are pointier - just spectacular!
Each Chiao Goo Red Premium Lace needle is made from top-grade aluminum and finely polished to give you hours and hours of easy and snag-free knitting, as stitches glide effortlessly, not interrupting your knitting rhythm.
Needle size is laser imprinted on each RED Lace circular. Package includes one circular needle.