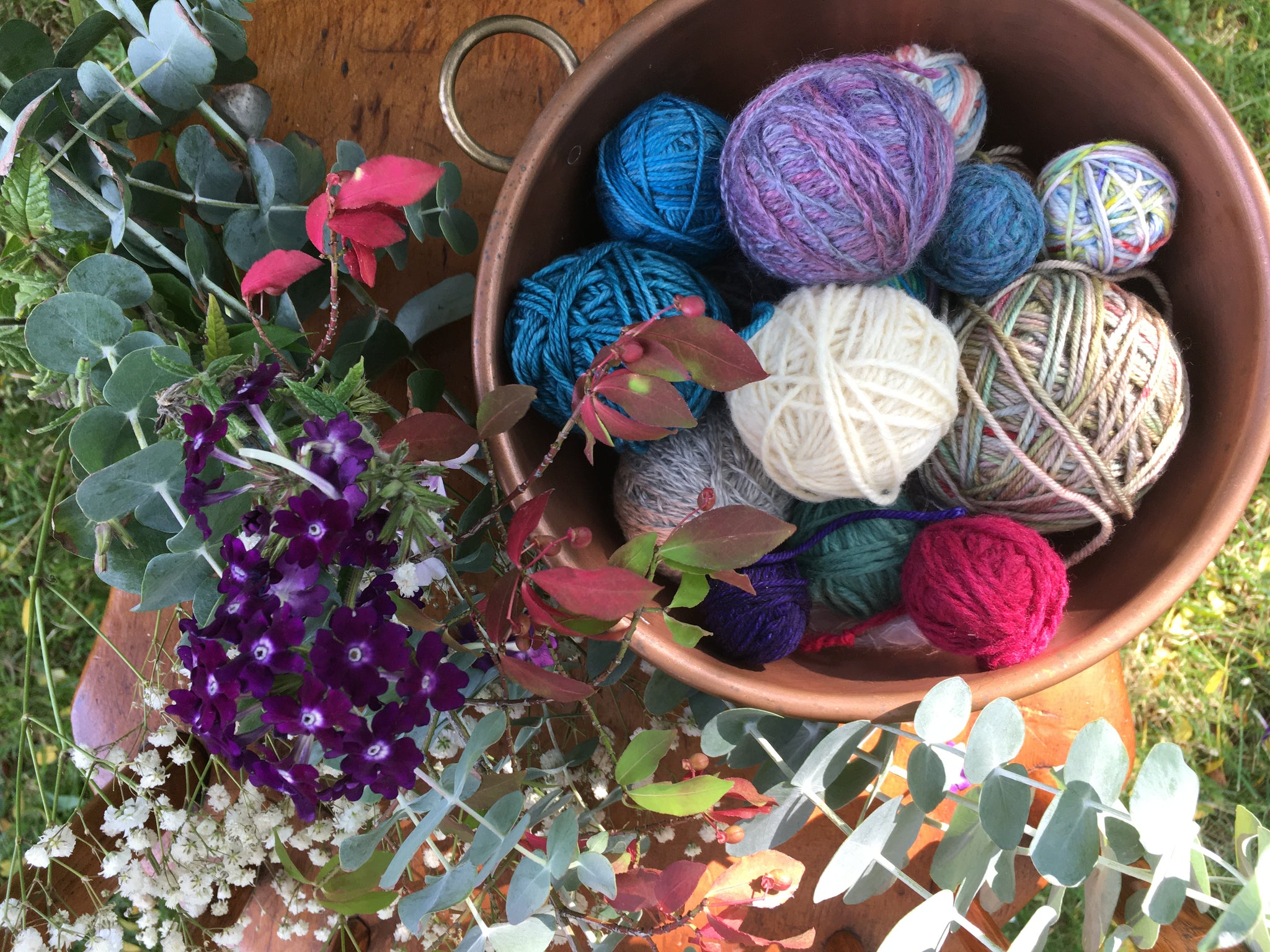 We're happy to say that the fall knitting, crocheting, and weaving frenzy is in full swing.


     We're happy to say that the fall knitting, crocheting, and weaving frenzy is in full swing. Needles are clacking, hooks are doing their magic and the yards of mittens, cowls, clothing of all sizes and home accessories are growing by the hour. Some of us are casting on our first bulky hat, anxious and delighted. Others are juggling numerous projects, from a cardigan for a loved one to thrummed mittens for a rainy day gift. Each of us is creating with care and thoughtfulness. 
    Here at Riverside Yarns we're particularly grateful that we have been able to keep our store open to the public through the summer and into the fall. Understandably, the safety measures that all retailers have had to put into place means that from time to time customers must wait outside. We simply do not have the space to accommodate more than three customers safely. Should you be in the store while customers are waiting outside, we kindly ask that you limit your browsing time so everyone gets a chance to make their purchases. 
       We are all adjusting to a new and sometimes limiting way of doing retail. Our customers have adapted with grace and positivity. We thank you for your patience and understanding.
    You can also browse on our online store, where most of our stock is available. It's open 24/7, and we continue to offer in-store pick-up, and a flat-rate shipping fee of $10.00 on orders under $200. Give us a look at www.riversideyarns.ca. We also love showing off new yarns and projects on Facebook and instagram! 
This Thanksgiving Weekend Riverside Yarns will be open Friday 12 - 5 PM and Saturday 10 AM to 4 PM.
We will be closed Tuesday, Oct. 13.

Cathy, Josette, and Shawna wish you, your families, and friends a happy and safe Thanksgiving.
Shawna joined Riverside Yarns as our new sales associate in July. She brings a solid background in retail, as well as a strong creative streak.
Her original patterns can be found at www.ravelry.com/designers/shawna-katz, and she's on Facebook and Instagram at seak.creates.
Introducing 50 Shades of Mohair from Katia.  These 20g bobbins pack 200m of mohair blend that is feathery light yet strong enough for the heavy wear of mittens and scarves.  Visit Katia.com to see the shades, or call the store for more details. At $8.00 per bobbin it's an economical way to add warmth to your winter knitting.
It's so easy to knit a jacquard stitch hat with Katia's Easy Hat. You only need one ball of this fun limited-edition Perfect Cycle yarn to make a funky winter hat, and the free pattern is included! With six colours to choose from, you can make hats for the whole family. Each 100g ball sells for $18.40. There's enough yarn in the ball to make a Pom Pom, or top it with a funky hand-made Pom Pom by Grey Owl Knits. 
Just in time for sweater weather! We now carry yarn from Briggs and Little, Canada's oldest woolen mill. Choose from their DK-weight Sport, at $6.90/ 393m skein, their light-worsted Regal at $7.50 for a 248m skein, or the worsted-weight Heritage, a hearty two-ply that costs $6.90 for a 196m skein. And for those cozy thrummed mittens we have 5 colours of Country Roving, at $12.10.
  These irresistible Shetland sheep are the source of some delightful yarn that has made its way into Riverside Yarns. They may look like a flock in the wilds of Ireland or Wales, but they're not. They are living comfortably up the road, not 40 minutes from Owen Sound. Say 'hello' to the sheep of
Meaford Wool
. Their fleece, and the fleece of some cute little Columbia sheep on the farm, is being spun and dyed into wool yarns that are about as local as you can get. We especially love the saturated colours of the 2-ply Mule Spun worsted, which is hand-dyed on the farm and sells for $20/ 220yd skein. We also have natural Columbia Lopi at $14/ 150yd skein, undyed Shetland Lopi at $22.50/ 158yd skein and undyed Shetland Lace at $20 for a 400yd/skein. These yarns, as well as a Gotland/Mohair mix will soon be available online at riversideyarns.ca -- just search under the "Farm to Store" tab.
Fall just got a lot more fun with this KAL
Join us for a comfy, cozy fall Knit-a-Long. We've chosen the Oxbow Cardigan from drea renee knits because, well, it's perfect. Andrea Mowry has done it again with this easy-fitting seamless sweater. The pattern is designed to fit any gender, any age. It has an engaging stitch pattern that's easy to remember, and you can add buttons or leave it be, your choice. The best part: it's knit on big needles (8mm) with chunky yarn. 
We'll cast on on Tuesday,  October 20th during our first fall Zoom Group Knit/Crochet.


Classes, Zoom Project Support, and Zoom Group Knits
Considering the current public health guidelines, we still cannot offer in-house project support. We have, however, reached out to a number of our customers virtually and will continue to do so for the time being. If you need some guidance with a project, email Josette and she will set up a Zoom meeting with you. We can only offer knitting support at this time. For more information, email:
josette@riversideyarns.ca

Our first session of classes, while limited, went well.  We were planning to move on to another session after Thanksgiving, however, we are concerned by the situation with COVID-19. We are pausing the classes at least until the end of October.  If at that time we feel comfortable offering another session, we will send out an email to all customers.

In the meantime, how about a Zoom Group Knit/Crochet to keep you motivated? Last spring we had a lively group that met on Zoom Tuesday and Saturday afternoons. If you're interested in taking part in a Tuesday afternoon virtual knit/crochet/crafting session, please email Josette to sign up. The first session will begin at 1 PM on Tuesday, Oct. 20.

 

Patti Waterfield knit up this easy-fitting Morlaix pullover in Sugarbush Cabot. The pattern is designed by Regina Moessmer and is available on Ravelry.


Rhonda Forge used Fibra Natura, a 100% Flax DK-weight yarn, for this stunning wrap.


We love the geometric shapes in Sandra Kilby's blanket. She knit it in Estelle Alpaca/ Merino Fine, so it will be warm yet light. The blanket is designed by Steve Rousseau -- check out his Ravelry page if you're interested in bold architectural pieces.


Diana Griffiths used Estelle Outback Chunky for this wonderful fall sweater.


 

You could say Anne Thompson is a fan of Andrea Mowry's designs. The top is 'So Faded' using Illimani Sabri in Grey. The second photo is her 'Weekender Light', knit with Manos del Uruguay Milo in the Coquina colourway.

Susan Fraser knit these shawls for the Grey Roots Museum, using Paton's Shetland Chunky and Cascade 128 Superwash. Volunteers use them when they dress up in period costumes for special events at the Moreston Heritage Village. Susan's grand-daughters love them because they're warm!

Pat Wagter used Sugar Bush Yarns Trickle in Garden Glory for this light sweater. 
 
Bonnie Perry, the creator of Woolies in the Country, shows off a lovely gift to the store from Karli Whitmore of Montreal. Known as KarliKnitter on Ravelry, Karli has created a wonderfully warm shawl with two colours of Woolies Brushed. She used Woolies Boucle to make the World's Simplest Mittens, by Tin Can Knits.
To see more of her projects, check out her Ravelry page:
https://www.ravelry.com/projects/KarliKnitter
Coming to Riverside Yarns
Made by the Crafty Kit Company, each British Birds needle felting kit contains everything you need to make a sweet little bird. Each kit contains 100% wool, wire, pipe cleaner, glass eyes, felting needles, foam mat and step-by-step instructions.

$26.00
____________________________
It's time for some Christmas Crochet ideas. In this book you'll find patterns for tree decor, home decor, stockings, and an Advent calendar to help you count down to the big day. Detailed instructions and photographs accompany each project to make your crocheting experience an enjoyable one. All patterns use DK or chunky wool.

21 pages, 9 patterns   $20.00
____________________________
This collection includes plenty of festive projects to adorn your home. How about knitting up a cuddly Penguin, a Tree Toy called Trevor, and garlands of snowmen and Santas. Detailed patterns and instructions are included to make this your most creative Christmas ever.

21 pages, 10 patterns   $20.00
_____________________________
New from BC Garn, Hamelton Tweed 1.  This is a beautiful, classic tweed yarn, and we'll be bringing in 10 warm and rich colours. It's really the perfect yarn for all your cool-weather knitting. 

90% Wool, 10% Viscose
100m/ 50g ball @ $10.00
Needle size/tension: 4.5-5mm / 18sts
_____________________________

 
Our fall/ early winter hours are:
Tuesday to Friday, noon to 5 PM
Saturdays, 10 AM to 4 PM
Copyright © 2020 Riverside Yarns, All rights reserved.
You are receiving this email because you opted in at our website and / or signed up for our newsletter while you were visiting the shop.

Our mailing address is:


Want to change how you receive these emails?
You can update your preferences or unsubscribe from this list.