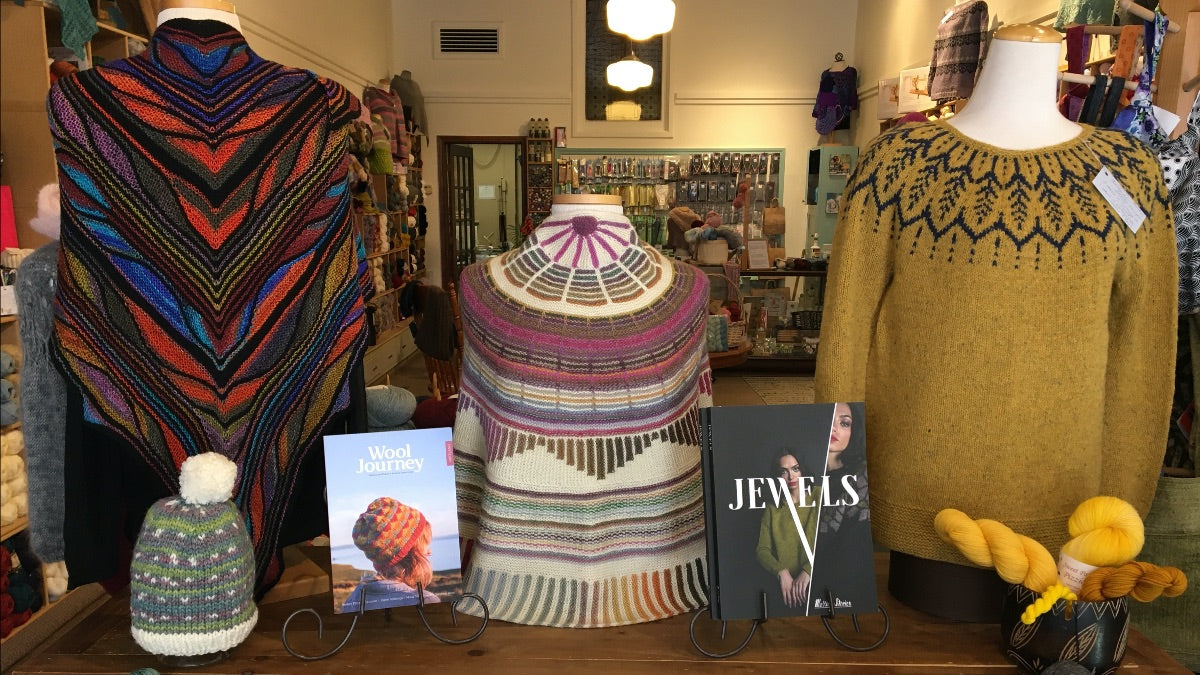 We're giving you the scoop on our in-store samples and new yarns for spring.



Knitters and crocheters spend a fair bit of time planning and plotting, checking out patterns, jotting down ideas, and scrolling through social media looking for the next perfect project. A LYS is no different — here at Riverside Yarns we, too, are looking for great projects that show off our yarns and inspire our customers. Fortunately, we have many hands that provide us with a range of projects from the beginner-friendly beanie to multi-coloured shawls and sweaters.

Peggy Call is an experienced knitter who has been invaluable in helping us refresh the store samples. She knit many of the classics in the store, including the Love Note by Tin Can Knits and the gorgeous Altheda in the photo above.

Many of you would have met Melanie Merswolke at the store before we bought it in 2019. We have a lovely Weekender sweater that she has made, as well as a cosy Gramps cardigan. She shares her creative output on Instagram at @purls_and_honey, and her completed projects can be found on Ravelry under purlsandhoney.

Lori Savichunas is behind the fun and whimsical Instagram account @caddyshackcreative. And while she enjoys knitting small animals and smaller people, we have displayed a number her shawls in the store that feature the Yarns of Rhichard Devrieze. These projects can be found on her Ravelry page, lorisav.

Earlier this year we collaborated with local knit designer Nancy Lekx to present the Riverside Yarns Family Cowl Knit-Along. Nancy's designs have more recently been published in Interweave Knits and A Needle Pulling Thread. We were happy to receive her Coronavirus Smackdown shawl shortly after she released the free pattern on Ravelry. You can find her other designs at https://www.ravelry.com/designers/nancy-lekx.

Our store manager, Shawna Katz, has also supplied us with many wonderful crochet samples. Her High Line Pullover is a great example of modular construction done in a versatile and moderately-priced wool blend. Shawna is also a designer, and her work can be found on Ravelry at https://www.ravelry.com/designers/shawna-katz. You can follow her on Instagram at @seak.creates, and on Facebook at http://facebook.com/seak.creates .

We met Johanna Brown in the spring of 2019, as the Saturday afternoon knitting group was gathering at the store. Last spring she made 'Jane' by French designer Mlle Petronille for us, and we're going to be showing off her Butterfly/Papillon shawl sample. Johanna has also designed an easy Wedge Heel sock pattern for us to help new knitters begin their sock-knitting journey.

When Nancy Luckhardt came in to show us her Butterfly/Papillon Shawl last spring (shortly after the first Lockdown) we were blown away by how beautifully done it was. When she said we could use it in the store, we were speechless. That shawl has inspired a wave of Butterflies, and we're grateful to Nancy for her generosity.

Kim Allerton is also loaning us a shawl that is inspirational and fun. Her version of Waiting for the Sun (in the photo above) is posted on her Ravelry page: KnitPearlKim. We're also grateful to Kim for the knitting advice she has given us over the past year and a half, saving us from more than a few fibre disasters.

We were happy to bring Joan Spence on board this fall, and her help in the store has been invaluable. We'll soon have a Frid sweater, knit in super bulky Sirdar Adventure, thanks to Joan. We also have in the store a beautiful Ribbed Cowl, which she designed herself and knit up in Katia Eden.

We love to have crocheted samples in the store, and Zinah Al-Hakeem made one of our first ones, the Dancing Poppies Cardigan. It's done in Katia Azteca Milrayas, and it still brings a great splash of colour to the store. Zinah is also the maker of a lovely little lace crop crocheted in Cascade Anchor Bay.

Karli Whitmore has been a fan of our Farm to Store Yarns, and has used Woolies in the Country Yarns for mitts, hats, scarves, socks, and much more! She also loves the Yarns of Rhichard Devrieze and Meaford Wool. Karli sent us a gorgeous Self Fringing Shawl knit up in Woolies Brushed to use as a sample in the store. We're sharing it with Bonnie (Woolies in the Country)! Karli's projects can be found on Ravelry at KarliKnitter.



INTRODUCING OUR NEWEST STORE SAMPLES



Our Estelle Eco Tweed was the perfect choice for the Altheda Sweater. This GOTS-certified yarn is 25% alpaca, making it soft and easy to work with. Peggy Call knit this in Navy and Gold, but the design by Jennifer Steingass is adaptable to any combination of the nine colours that we have in the store.

Estelle Eco Tweed: 50% wool, 25% alpaca, 25% lyocell
350m/100g ball $18.00

 Shawna Katz shows off the High Line Sweater which she crocheted with King Cole Fashion Aran in Skye. The sweater is designed by ChiWei and is a unique rectangle construction. The pattern is available online for free at One Dog Woof.

King Cole Fashion Aran: 75% acrylic, 25% wool
200m/100g $9.00




We can't get over how our customers have flocked to the Butterfly/Papillon shawl. And no wonder! It's an engaging knit, and the colour possibilities are endless. The top sample was knit by Josette deBrouwer using Uneek Fingering in colour 3007 - Autumn Walks. Johanna Brown has done her shawl in colour 3025 - Ocean. The shawl was designed by Marin Melchior and can be found on Ravelry at
https://www.ravelry.com/patterns/sources/marin-melchiors-ravelry-store

Urth Uneek Fingering, 100% extrafine merino, 345yds/100g $32.00

FINISHED OBJECT GALLERY



Clare Matthews needed a project for her pandemic Netflix-watching, so she chose to do a cardigan using Illimani Amelie. The cardigan features a nifty half-brioche stitch pattern, and is very lightweight. Amelie is a unique combination of Mulberry Silk, Baby Alpaca and Merino.
Photo by Ed Matthews



Cody Hawes finished her Rift Tee by Jacqueline Cieslak. She used Lichen & Lace Rustic Heather Sport in Coal, and had enough yarn left over to make a pair of mittens. Beautiful and classic!


Anne-Marie Hay sports her Glenmore Sweater by Ysolda Teague, knit up in Estelle Outback Chunky in Sand. Anne-Marie was very impressed with the clarity of the design - Ysolda is known for creating patterns that are size-inclusive, with unique construction details. Her designs are available at https://ysolda.com






Melody Donald knit up this Anthophilia Sweater by Tanis Grey for her daughter-in-law, Dayna Donald, who is a beekeeper. This top-down stranded colourwork pullover is an ode to bees, and is gorgeous done up in BC Garn Hamelton Tweed 1.



Donna Murphy has joined in the Thrummed Mitten fun! She did these in
Estelle Outback Chunky in Flamingo, using Country Roving by Briggs and Little for the thrums. She used a pattern from Verypink.com, which is available on Ravelry.


Amalia Stoltzfus-Forand made this fun hat using a Lumière Hat Kit from Estelle, in the 04 colourway. She used the Basic Beanie pattern, available for free at estelleyarns.com. Amalia has had to get another pom-pom because, at 200m/ ball, she has enough yarn left over to make another hat!
Lois Ford of Burlington has been busy making socks. From left, she has Patons Kroy Socks in Dads Jacquard, Cascade Heritage Prints in Reds #51, Universal Yarns Allegro - a wool-free sock yarn - in Classical Crimson #808 and Lang Super Soxx in colour #9104. Lois used a simple two-stitch rib pattern for the socks.
Cathie Dowell took part in our Riverside Family Cowls KAL, using a superfine alpaca from her stash. Cathie made the large size (CO 156 stiches) on 4MM needles and used about 360 yards of yarn.
The cowl was designed by Nancy Lekx and is available at https://www.ravelry.com/patterns/sources/nancy-lekxs-ravelry-store.
Mary Devlin has developed her own special pattern to make socks that are large enough for her son to wear. She was thrilled that there is enough yarn in each ball of the Estelle Sock Twins Brights for these large socks, which are done in the Bright Sunrise (603) colourway.

We're always happy to share photos of your finished objects. Did you know you can also share on Instagram? Tag us @riversideyarns, or share to #myriversideyarns.

Just in time for Spring!
New yarn from KATIA & CONCEPT by Katia


We've brought in some fun yarn options from Katia to get you into the spring and summer knitting, crocheting, and crafting groove. This Barcelona-based yarn and fabric company has long been a leader in the hand-made community. Check out the company's blog at Katia.com, where you'll find interesting patterns and videos like this one:
https://www.katia.com/blog/en/category/tutorials/macrame/

Katia Linen 53% cotton - 47% linen
This DK-weight yarn is perfect for summer ponchos and light cardigans. The natural linen fibres make it a good choice for home items like cushions and blankets.
112m/50g ball, $8.00
8 colours

Cotton-Cashmere 90% cotton - 10% cashmere
Concept by Katia has created this incredibly soft fingering yarn that is ideal for season-spanning knits. It's suitable for baby items as well as wraps and light accessories.
155m/50g ball, $10.00
6 colours (with more to come)

Macrame Cord 65% cotton - 25% polyester - 10% other fibres
Macrame is back in style, and we have the right cord for your crafting projects.
100m/500g bobbin, $25.00
4 colours


Re-Tape 52% polyester from recycled plastic bottles - 48% cotton
Re-Tape is a worsted-weight yarn produced from reclaimed sea plastic and organic cotton. It has a unique chain construction that will give texture to your project, whether it be a light t-shirt or a breezy throw for your home.
100m/50g ball, $8.00
6 colours (with more to come)

Our Bricks and Mortar store will be closed for our annual inventory count from Sunday, March 28 to Monday, April 5. We will be processing online orders, but we will not be available for curbside pick-up until Tuesday, April 6 at 12 PM.


Now that lockdown measures have been lifted, we have a modest proposal:

The Coronavirus Smackdown KAL

It's been just over a year since we've been confronted with Coronavirus and all its complications. One thing we've learned in this time is that crafting together has helped lessen some of the loneliness many of us have felt through this pandemic.  Last year local designer Nancy Lekx created the Coronavirus Smackdown Shawl as a symbol of our collective experience with CoVid 19. As part of the KAL, Nancy has created a series of lessons that she will share via Zoom with KAL participants.
Details of the KAL will be shared on Facebook and Instagram. The pattern can be found here:
https://www.ravelry.com/patterns/sources/nancy-lekxs-ravelry-store
Photo by Nancy Lekx

Winter/ Spring store hours:
Tuesday to Friday, noon to 5 PM
Saturday, 10 AM to 4 PM