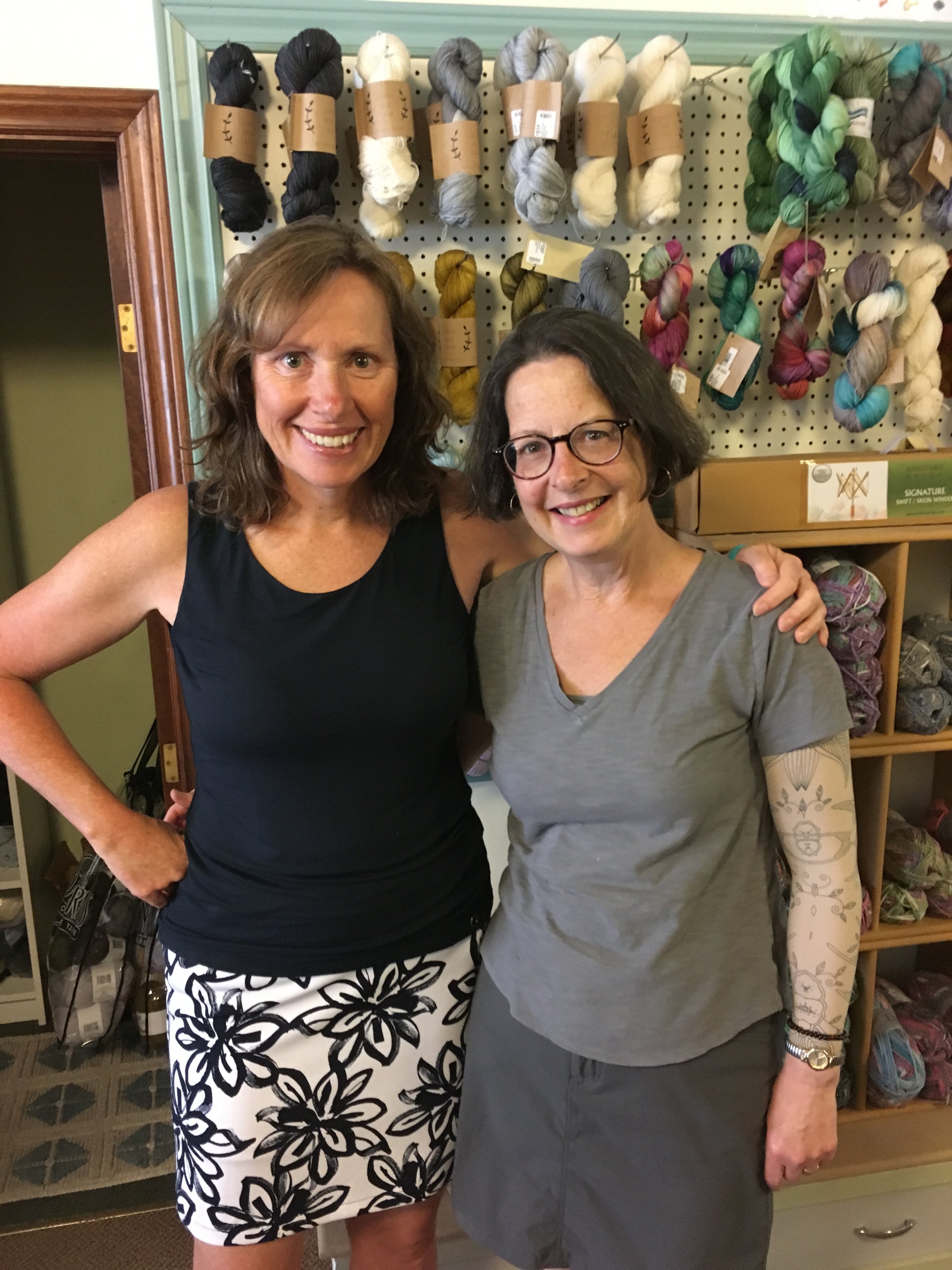 We're celebrating our First Anniversary in the best way possible - with yarn by three of our local dyers.
We're marking our anniversary at Riverside Yarns differently than we thought we would, but honestly, this is going to be so much better than cupcakes and a marching band. We're looking at this first year mark as a celebration of friendship and a celebration of place. And the most fitting way to do that is through the beauty of yarn.
    We're happy to show off the work of three local dyers who we would never have met had we not taken a chance and bought Riverside Yarns a year ago: Jeffi Farquharson of shantiknits, Rhichard Devrieze of The Yarns of Rhichard Devrieze, and Bonnie Perry of Woolies in the Country.
 Ainsley Woods by shantiknits
Huron Sunset by The Yarns of Rhichard Devrieze
Woolies in the Country by Bonnie Perry
  Jeffi captured the summer colours of the forests and beaches that sweep down to Georgian Bay in her delightful 'Ainsley Woods'. Jeffi developed this colour way exclusively for Riverside Yarns to help us celebrate the summer of 2020. 
    'Ainsley Woods' is a homage to family time spent on the beach at the Ainsley Wood Conservation Area near Leith, Ontario. This fingering-weight yarn is 80% Blue Faced Leicester from Ontario, and 20% nylon. When we saw the finished product, we had the perfect project for it - the 'Close to You' shawl by Justyna Lorkowska.  This project is a mixture of soothing garter stitch and pretty picot that shows off the brilliant yellows and bold blues of 'Ainsley Woods'.
The 'Close to You' shawl knit in 'Ainsley Woods' by shantiknits. The shawl was designed by Justyna Lorkowska of letesknits.com and the pattern is available for free on Ravelry.
We're also smitten by the summer colours of Rhichard's 'Huron Sunset,' and have asked him to bring in as much of it as he has! Summer sunsets on Georgian Bay and Lake Huron are legendary for their drama and boldness - this colour way in Thede brings that fire onto your needles. Now's your chance to knit up a beautiful Lake Huron sunset to wear all year long.
    Rhichard, who works and lives in Markdale, Ontario, has said that his colour ways are reflections of memories as well as  "anticipations of things yet-to-be-experienced."  We can definitely get into that. 

Below: A splash of 'Huron Sunset' in Thede, Rhichard's 80/20 merino/nylon in fingering weight. 
 Bonnie Perry's yarns are the epitome of local. Bonnie farms near Chatsworth, Ontario, and uses fleece from her pet Romney sheep, Angora goats, and alpacas to create irresistible one-of-a-kind yarns. The beauty of Woolies in the Country is that the animals decide what the yarn will look like. 
    Bonnie also has a unique way of applying the dye to the fibre — she literally paints the dye on the wet skeins with a paint brush. She uses two or three different colours on each skein, and says that once she starts she can't stop or be interrupted as the dye will spread along the unpainted fibre. She then wraps the skeins in plastic, steams them and hangs them to dry. The following day each skein is rinsed and hung to dry again. 
    We see each skein as its own little miracle. Bonnie brings her fibre artist's eye for colour and texture to her work, and no two skeins are quite alike.
Bonnie with one of her darling pet alpacas.
We are very excited about this collaboration with three local dyers, and we hope it sparks some joy in you, too!

Yarns from shantiknits, The Yarns of Rhichard Devrieze and Woolies in the Country are now available in the store, and online at riversideyarns.ca.

Simply enter 'Ainsley Woods', 'Huron Sunset' or  'Woolies in the Country' in the search bar. Or scroll down our home page to see them as our featured yarns. 
A First Anniversary calls for a SALE!  



We'll pay the tax on Tuesday, Wednesday, and Thursday, July 14, 15 and 16 for online and in-store sales of everything in the store except hand-dyed yarns and our RSY Project Packs. 

    Make a purchase online or in-store during the sale and you'll be entered into a draw for one of two gift baskets filled with delightful yarns and essential notions.
The draw will be held on July 16 to mark our
First Anniversary! 
Cathy and Josette  July, 2011

We were knitting then, and we're knitting now!
We owe a big thanks to our families for encouraging us to make the leap into retail, and for helping us with the nitty-gritty of running a small business. We owe an equally big thanks to our customers and store supporters. We're thrilled to be starting our second year at Riverside Yarns together.
Thank you all!

Cathy and Josette